It's official. We can now openly revel in holiday madness. Joe and I secretly welcomed the season 3 weeks ago, and it started with this little collaboration with my friend and floral maven, Jackie Reisenauer. Jackie and I styled our home to celebrate the festive season, but you won't see much red, green or silver. It's a less traditional twist on traditional finishes, inspired by our very traditional English Tudor home. I decided to keep the florals and greenery up, which prompted Christmas music, holiday M&Ms and twinkling lights in our windows. Here's Jackie on how to make your own garland.
5 Steps to a Perfect Holiday Garland by Munster Rose
The holidays are here! Time to decorate, right? You might have an entire section of your closet dedicated to this very purpose. But rather than drag out your boxes and decorate with all your go-to, why not wrap up the season with something fresh?
This year, spruce up your holiday décor with a DIY holiday garland—a super high-impact holiday decor element that will instantly usher in that classic, modern holiday mood you're looking for.
Where to start? Of course, you could special order a pre-made holiday garland from your local florist or even buy a mass-made one at a local retailer. But why not try something a little different?
For our garland, we chose to use Silver Dollar Eucalyptus. It smells great, has a more organic look than traditional evergreens, and is perfect for people who want an untraditional take on holiday décor.
Here we go.
1. Start with lots of greens. Lots. You'll need about 10 bunches (100+ stems) to make a garland the size of the one seen in this post. If you can't get Silver Dollar Eucalyptus from your florist, try bay leaves or even lemon leaf.
2. Separate your greens into manageable neat piles. The last thing you want to do mid-garland-making is stop to detangle a forest of eucalyptus.
3. Using green paddle wire, start wrapping individual pieces of the eucalyptus together. We prefer to use the green-coated wire because it's easier to work with and doesn't leave your hands smelling like metal for days. You can get it at your local craft store.
4. Keep wrapping! Try to weave your way in and out of the leaves a bit. Otherwise it will look too tight and smushed.
5. When you get to the end of your greens make sure to tie off the wire so your masterpiece doesn't unravel.
Don't get frustrated if it takes a while to find your groove. Making one of these things can be time consuming. Especially if it's your first attempt. But in the end, it's sooooo satisfying.
Tip 1: Display your garland in a cool room to prolong its shelf life. This is perfect for a front porch, sunroom, or even hanging outside your back door.
Tip 2: Get Eucalyptus if you can. One of the great things about Eucalyptus is that it dries nicely. Even after it loses some of its initial juiciness, you'll still be able to appreciate it. Also: Unlike more traditional evergreen garlands, Eucalyptus doesn't shed. (You're vacuum will thank you.)
Sources: Table & Chairs from Ikea, Sofa from West Elm, Pillows from Schoolhouse Electric, Lamp from Schoolhouse Electric, Brass Planters from Schoolhouse Electric, Rug from Someware Goods, Paint Color: Ralph Lauren Paint Darcy Green
Photos by Melissa Oholendt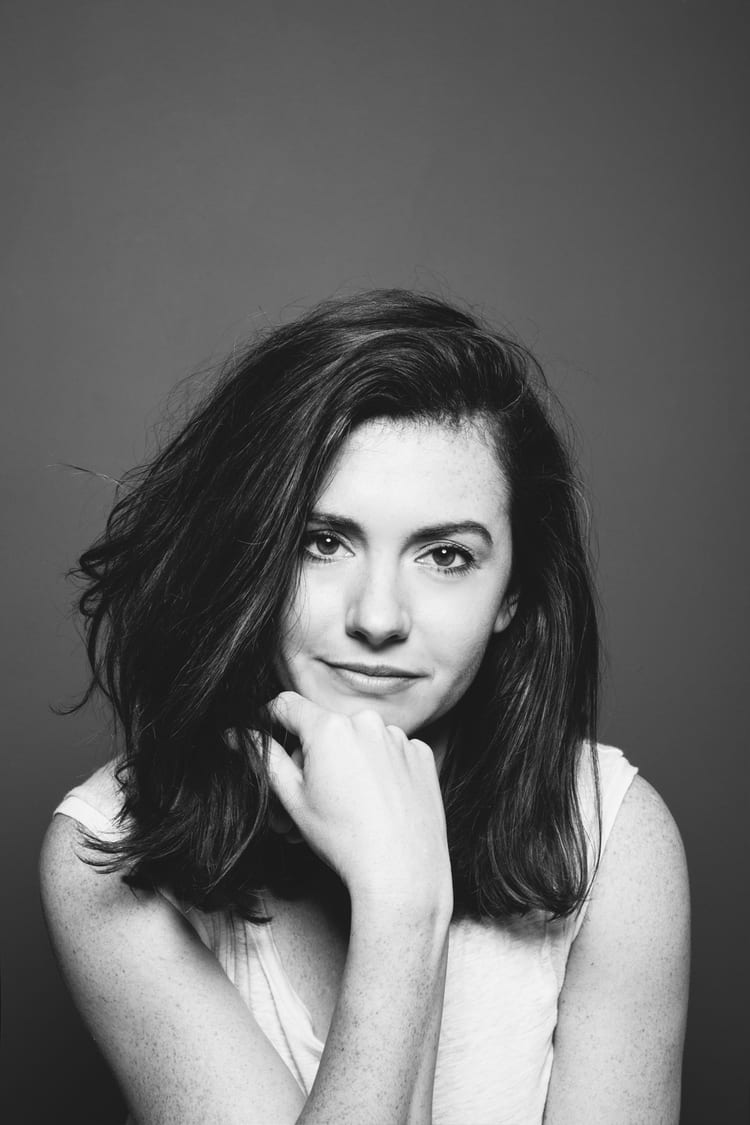 Kate is currently learning to play the Ukulele, much to the despair of her husband, kids, and dog. Follow her on Instagram at @witanddelight_.