Say you decide one day that you want to achieve something lofty. Become a director at your current employer. Learn to play the guitar. Open your own retail store. Start your own product line.
What's your immediate next step? Do you:
A) Write down your goals, change your daily mantra, and vow to stay focused until said goal is your reality.

B) Email your mentor and enlist their help in formulating a step-by-step action plan.

C) Take it day by day, put your best work out there and see what the universe serves up.

D) Close your eyes and pray it happens.
I was kicking around on The Facebook the other day and came across an interview in motto featuring Ina Garten of Barefoot Contessa fame. I've always been fascinated with her career trajectory and how she got from where she was (government employee) to where is she (goddess of effortless entertaining and successful business woman). Ina's story was one I had always hoped for myself: create a business by making the things I really love accessible and then making those things accessible to everyone else.
Apparently, she did it not only by accident but by completely abandoning her goals. Here's a portion of the interview:
Motto: What do you wish you'd known when you were just starting out in your career?

Garten: When you're in your 20s, you feel like you need to have goals and that there are so many other things you should be doing. But the more I've grown my business and my career, the more I've come to believe that goals aren't always helpful—at least not for me. Instead of trying to plot out specifically where I want to go, I've always just done the best job I can on what's in front of me and let the universe reveal itself.

When I was in my 20s, I was working in nuclear energy policy and management and budget for the White House, thinking, "There's got to be something more fun than this." And then I saw an ad for a specialty-food store for sale in the New York Times, and it was in a place I'd never been before: West Hampton. So my husband, Jeffrey, said, "Let's go look at it."

To say that I knew nothing about what I was getting myself into was an understatement. I'd never run a business before, never even had employees working for me. But when I saw the store, I thought, "This is what I want to do." So I made the woman a low offer, thinking we'd have time to negotiate. But the next day she called me and said, "I accept your offer." That's when I said to myself, "Oh, shoot. Now I have to run a specialty-food store."

Motto: So you feel that not having a specific goal in mind helped keep you open to this opportunity that turned out to be life-changing for you?

Garten: I think if you set goals, you keep yourself from really interesting sidetracks. Before I bought my store, Barefoot Contessa, I'd thought I was going to go into real estate and buy old buildings and redo them. But I loved cooking, and when I saw the ad, it just clicked.

Something similar happened later, after I had been running the store for 20 years. I knew I wanted to do something else, so I sold the store to some of my employees, not having any idea what exactly I would do next. About nine months later, I thought, "I'll write a cookbook while I figure out what I should do." But then I turned out to really love writing cookbooks.
There's nothing quite like hindsight when you've built what Ina has, but the sentiment struck a chord with me. What if we're judging our own success by someone else's destiny? I know it sounds corny, but some of the best things in my life haven't exactly come because I've planned them. They've come because I had no other option than to face what was in front of me and turn it into something worthwhile. Other times they've been a side effect of being a non-linear thinker. Sometimes you just land somewhere because of circumstance. The magic happens in seeing opportunity in uncertainty.
I get a couple emails every now and then from women in their early twenties on how to get where I've gotten, and I give them the same advice that was given me. If you really want something, put your best work out there, good things will come. And, if you're smart, you'll remember to sit back and enjoy the ride.
Now in my 30s, the next phase of my career is beckoning loudly. I know what I want, and it's going to take a lot of work to get there. But I'm taking what I've learned and I'm just going to put good things out there. We'll see what happens next.
—
Image: Emma Elwin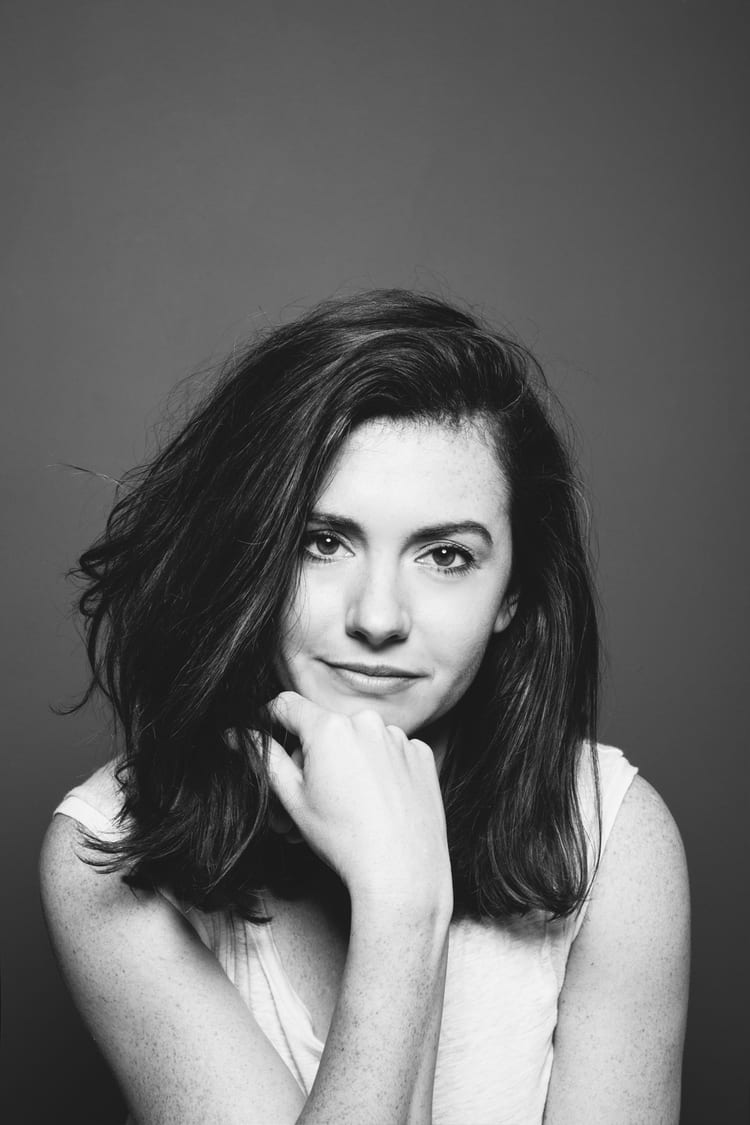 Kate is currently learning to play the Ukulele, much to the despair of her husband, kids, and dogs. Follow her on Instagram at @witanddelight_.