Let me tell you what ten days in the country will do to a city gal. It will change you. If you would have told me five years ago I would be craving a tiny home surrounded by woods or sitting along a lake, I would have laughed in your face! But life has a way of changing you, no matter what. A new house isn't in the cards right now, but I'm thinking we maybe… just maybe could look into a small country house for weekend getaways and W&D retreats. And, since we have a few weeks left of slightly warm weather, we might as well enjoy the jaw-droppingly beautiful photos of people's country homes popping onto my Instagram feed. I could tell you that I get tired of seeing them but that would be totally false. They keep my daydreams of that little farmhouse or cabin out in the middle of nowhere alive. Imagine being able to truly unplug, lounge around, and enjoy the scenery that isn't highways and strip malls. I'm feeling more relaxed already.
While a farmhouse isn't on the horizon just yet, I can't keep myself from saving some ideas for the future on Pinterest. I've rounded up a handful of drool-worthy country home kitchens that could inspire your next home reno. Better start saving…
I've said it once and I'll say it again, a great rug can be the star of the show in any room. This vintage beauty really makes this neutral farmhouse kitchen pop. I also love the color it adds and how well it complements the butcher block countertops. If you're like me and always on the hunt for vintage pieces like patinated pitchers and milk crates, a country house (real or daydreamed) is the perfect place to show them off. This is granny-chic at it's finest.
Something I never thought I would love in a country home is a dark kitchen, but this one caught my eye. The black cabinetry is a stunning contrast to the white walls and the open shelving brings in a warmth that allows for vintage pieces to be on full display. And if there's one thing that completes a kitchen in the country, it's wicker in all shapes and sizes. I love the masculine meets modern feel this space has!
You really can't get any more charming than this! First and foremost, those distressed wood floors are to die for. Finding floors like these are like hitting the real estate jackpot. They're the perfect worn-in base to design your farmhouse kitchen around. Adding touches of personality to a house in the country is especially important. The crown molding in this kitchen, along with brass drawer pulls and vintage chairs, really make this space feel like a home. I also like the added drama from the black counter base and pendant lamp.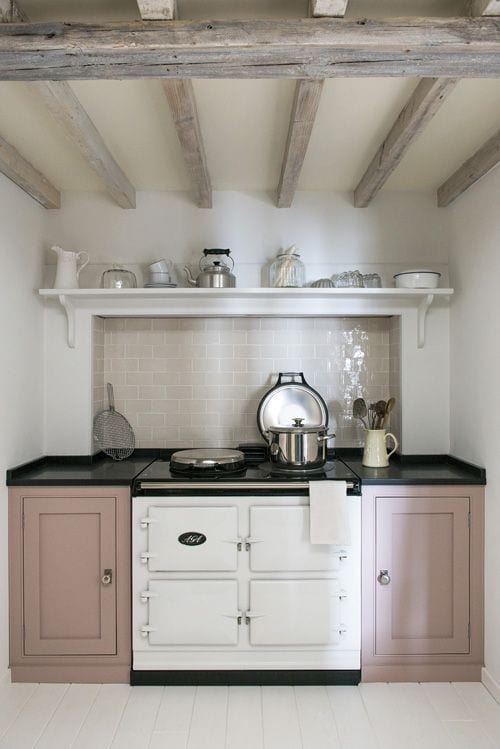 Open beams are a staple when I think of a country home; they add so much life and coziness. Consider letting those beams shine and leaving the rest of the kitchen pared down with some eye-catching pops of color. The pink cabinets and beige backsplash add just enough character without distracting. This little kitchen is proof that tiny kitchens can pack a big punch.
As you might have seen in Studio 125, pendant lights are my absolute weakness and the one above is no exception. I especially like how worn-in this one looks. A big piece like that draws your eye up and over to the fabulous floating shelves and white cabinetry. The addition of navy stools also adds another dimension of color to an otherwise pale (albeit beautiful) kitchen.
That mint and copper color combo has me weak in the knees! You can get away with pastels in country houses and this palette totally stuns in the kitchen. This is also another great example of how exposed beams (and a cute little pendant light) can completely change how a space feels. And who wouldn't want a wood-fired oven right in your own kitchen? The dinner opportunities are endless.
A bonus little breakfast nook! I love the splash of color on the wall paired with fresh, white chairs. Thoughtful accessories like plants, books, and an ultra-sleek clock are the perfect finishing touches for a farmhouse with a modern edge. A bit of gingham never hurt anybody either.
---
Shop Country Home Essentials
Signature Design by Ashley Famke Pendant Light Antique Brown • Signature Design by Ashley • $111.99
Caravan Gingham Towels, Set of 2 • Caravan • $60
One Kings Lane Vintage Heavy English Copper Covered Oval Pan • One Kings Lane Vintage • $265
Surya Home Zeus Global Wool Rug • $39–4,999
Le Cadeaux Rustica Antique White 11″ Dinner Plate • $20.53
Cruz Pendant Lamp • $76
Modern by Dwell Magazine LED Pendant Light Black • $69.99
Asstd National Brand Quinn Counter Stool Matte Black Finish • Asstd National Brand • $81
Juliska Country Estate Delft Blue Teapot • Juliska • $175
Garageman Small Wood Cutting Board • $53
Cement Wood Pendant Light • $249
Threshold Small Milk Crate Wire Basket – Antique Pewter with Copper Colored Handles • Threshold • $14.99
–
Image sources: 1 / 2 / 3 / 4 / 5 / 6 / 7 / 8