Brought to you in partnership with our friends at DUTCH BOY PAINTS.
There's always a small amount of nervous energy that comes with starting a new design project. When we decided it was time to take the plunge and get a shared studio space with our close friend and contributor, 2nd Truth, I felt like I was totally out of my element. While I had plenty of décor ideas, working in commercial real estate construction is a whole different world. The process can be intimidating and ultimately there's no clear cut path to a beautiful space, especially when leasing. Construction projects take lots of planning, lots of consideration and more patience than I realized. And when you're running a business, you've got to figure out ways to get up and running even when your space is in transition. Today we're going to check in on our design process and how we used paint to make beautiful updates to our space without having to build new walls.
Our biggest challenge in this space was figuring out a way for it to function three different ways. First and foremost, the space needed to work as an office. We also desperately needed it to work for creating content. And lastly, we wanted the space to feel warm and inviting enough to host guests and clients. In a 1,500 sq. ft. space, this means getting creative with how our space is divided up. As a small business on a budget, we decided to use paint as a way of further differentiating spaces from one another.
Knowing paint would be creating a focal point in two areas of the room, we decided to create an accent wall.  We felt it would be a nice way to add a little interest to the space. We also wanted to save cost on cabinetry, so we opted for particle board with a thick coat of paint. Our thought was we would use one paint color to unite the two spaces, while having them feel distinctly different. The accent wall would go in the lounge area, and also act as a nice backdrop for photos. The cabinets would be inserted into an alcove that already existed in our space, and on the base of our large island table. We just needed to find the right hue.
Dutch Boy Paints, our partner for this project, recently overhauled their in-store experience a Menards to help you find the perfect shade, no matter your situation. Despite having done plenty of home décor projects, I still get overwhelmed when selecting a paint color. I discovered that homeowners can now find their perfect hue through Dutch Boy Paints' Color Visualizer, which takes you step-by-step through an interactive paint selection process. It's pretty impressive. All you have to do is upload an image of the space you're designing, draw where you want to test out a paint color (like an accent wall in my case) and start playing around with colors, or you can use one of the pre-populated rooms. This was a game changer for me. Here are a couple colors we played around with:
Another unique way to turn inspiration into the perfect palette for your home is with Dutch Boy's "Simply Yours" tool. Using the "Simply Yours" tool, available here, we selected colors to create a custom sharable color-palette, including a name chosen by us for a personalized collection. This makes collaboration on a design project with your studio mate (partner or roommate) so much easier.
Finally, it was time to test our color selection: Moonlit Walk (434-1DB). (I love that name.) I really loved the idea of a light pink or green wall, but we plan to be here for a while and pink is a little trendy right now. We went with a classic grayish blue. We also chose Dutch Boy's Platinum Paint + Primer for this project because the studio has many difficult surfaces, like this brick wall, and we were able to get great coverage without needing to sand or prime! Win-win. From here, we built our mood board:
I worked through our mood board to finalize the pieces of our kitchenette. Alongside our cabinets will be Swanbridge Quartz from Cambria, a retro SMEG fridge, a Trinsic by Delta Faucet in Champagne Bronze, Navy 6″ Hex Tiles by Fireclay, and Haleigh Wire Dome Pendants by Rejuvenation. We're hoping to bring in a big sectional and ottoman from Article, pillows from Citizenry, rugs curated by Frances Loom, and stools by Blu Dot.
We're still working on décor and design, but at long last, we're feeling like this space is 95% complete. Here's a sneak peek at the space freshly painted. Now, time to host a party!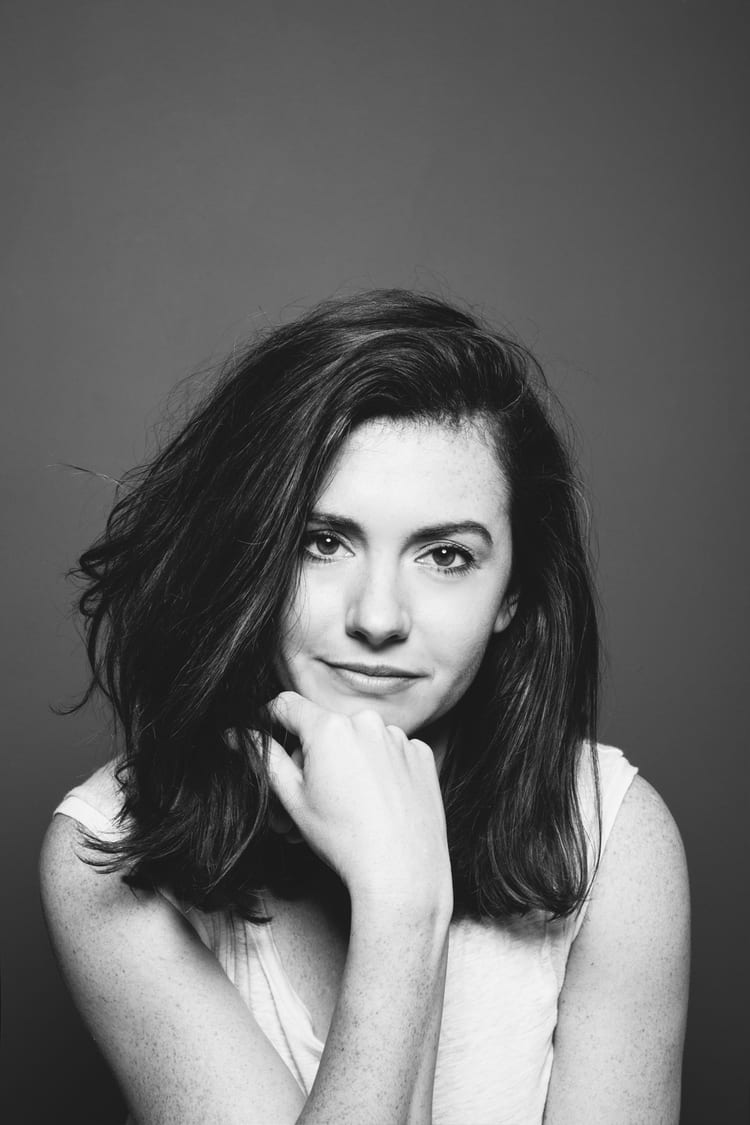 Kate is currently learning to play the Ukulele, much to the despair of her husband, kids, and dogs. Follow her on Instagram at @witanddelight_.