My original pitch for this piece centered around the idea of a husband and wife going through the each other's closet to simplify what they had while highlighting outfits that could be "shopped" and brought back into their daily routines. You know, to save money. Two beautiful kids cost an arm and a leg these days. But there was a larger, more selfish play I had in mind.
I told myself we could try this because there were some things in Kate's closet that I liked but she never wore – like a pair of heels with straps that gave me the big-eyed cartoon wolf face every time she wore them. Maybe she just needed to hear me say it. I'm sure I hadn't been giving all the business she goes into in order to look pretty enough credit. Being a parent frequently makes getting dressed in anything that you can't throw on one-handed almost impossible. Maybe she would feel better about what she wore and see herself as beautifully as I saw her – even without the heels. Perhaps she'd take my advice on our next date night.
Surely, Kate would view me quite favorably after this stroke of brilliance.
Naturally, I thought this was a GREAT idea.
Pleased with my strategy, I decided to lump all my intentions together and see how far things would go. That's when the inaugural Smith spring closet cleaning scheme was over before it even began.
"I'm going to start the column today," I told Kate casually while she was making breakfast for the family. She didn't look up from the strawberries she was cutting, and I wondered whether she was disinterested or simply concentrating. The knife in her hand seemed like the latter, but it was impossible to tell.
"That's great – you need to get on that. What's it about, again?"
Perfect – she was interested. I grabbed our infant daughter from under the dining room table and a pile of Legos she'd crawled into. Picking Cheerios off her onesie, I concentrated on my idea and the endgame.
"I thought it would be great for both of us to shop one another's closets—picking out things we wish the other person wore more often."
"…You don't like what I wear?" I must have been wearing a sign that said "Totally blowing it" above my head. I had to think.
"No babe, that's not it at all. I just know there are things you haven't worn that I think you look great in, like that navy dress you wore to that party a few summers ago, or I don't know, those shoes with the strap—"
"The high heels?"
"Yeah I—"
"Pass. I don't get it. Who cares about our closets?"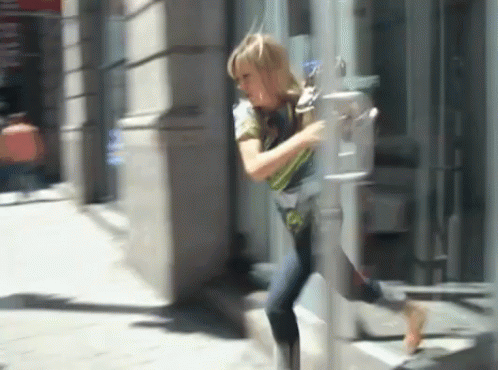 This wasn't going well.
Losing momentum, I pivoted.
"Well, I think people are starting to think about spring cleaning, and this is just one way we could show them how to do that.
With what can only be described as a human shruggie face, Kate turned back to the strawberries.
"Do you really think people reading this have never cleaned closets before? Maybe it could be a column about clothes we wish the other one wore less."
"Yeah! Us!" Wait, huh – US? I felt Jedi mind-tricked. Was I being too overeager about this? Stumbling over my words like a sophomore in high school, I paused and regrouped.
"Is that, I mean, the look you just gave me—is that the angle you want to take?"
The blade calmly decimated another berry, a splash of pulp and crimson. PULL UP, GOOSE, YOU ARE GOING DOWN.
"We could, I've already been doing some of it."
"Like in your closet, or—"
"No, I got rid of some of your stuff a few months ago so you wouldn't wear things that look sloppy. Like that navy bomber jacket — too small."
"The WHAT?" This was crashing and burning and I couldn't eject.
"Yeah. Or that Nike golf shirt. Long sleeves. The royal one? Also small. You wore that all the time. I was really surprised you hadn't noticed yet."
I went upstairs to check our closet. Sure enough, the blue jacket — gone. The Nike golf shirt — gone. Along with a dozen ties, three pairs of pants, most of my shorts, and a handful of button-downs that I'd never gotten around to tailoring. Truth be told, I'd never missed any of these things. And when I thought back to the times I had worn the offending pieces, I'd hated them or the way I looked. Maybe both. Crap, she was right. She had been proactively combing my wardrobe for months – doing exactly the thing I had wanted to do for her, but for my own benefit. I would look taller, leaner – more handsome than if left to my own oversized J. Crew button-downs.
Giving the rows of clothes and shoes one last glance before defeatedly walking back downstairs, something shiny caught my eye. The tiny, strappy clasps of those damn high heels. I thought about it. Thought about my original purpose for this entire experience. Immediately forgot everything that had occurred this morning. And grabbed them.
"Honey! I think we're done with my stuff—let's talk shoes. I have an idea…"
---