Who would have guessed at the beginning of 2020 that, seven months later, the majority of us reading this post would still be spending most of our time at home? (I mean, okay, there are a few people who could have guessed, but I was not one of them.) Life continues to be anything but ordinary, and I continue to be reminded that there's importance in doing things that (safely) take us outside of our comfort zones; things that remind us that there can still be newness and joy and anticipation at times, even in the midst of a pandemic.
Case in point? I served a platter of Cheetos and cheese dip as an appetizer on Saturday night (we're really living life on the edge over here). Another case in point? All of the unique, captivating, out of the box things I see folks doing with their homes right now—making them more inviting, more intriguing, more whatever-the-heck-they-want-them-to-be.
For those of you who are getting a little antsy in your homes and are looking to make some changes to your spaces, today I'm sharing a few out of the box design ideas I'd recommend. These are updates you may not naturally gravitate toward, but that have the potential to make a noticeable impact on your space. Because sometimes all we need to shift our perspective is a slight change of scenery or a different approach we hadn't thought of before.
1. Paint a Design on Your Wall
You don't need to paint an entire room to make an impact in your space. Why not try your hand at painting a design on your wall instead? Even if you wouldn't necessarily consider yourself the most creatively inclined, fear not! The design doesn't have to be complicated to make a stunning statement.

I stumbled across a few beautiful examples of this idea. One is the half moon shape in the office of Medina from Grillo Designs (shown above) and another is the organic, free-flowing shapes Meg Lewis painted on her living room walls (shown below). (This sun painting from Molly Madfis of Almost Makes Perfect is also really lovely!) And for those of you who are Twin Cities locals and aren't in the mood to do the painting yourself, you can always consider calling on a bit of help from the owners of She She, whether through their wallpaper designs or original work.
2. Try Painted Floors
If you're not satisfied with your floors and aren't in a place to spend the money to fix them up right now, consider painting your flooring. A fresh white coat of paint could be the refresh you need for your space, OR you could paint a bold pattern, like the green and white checkerboard design Grace Atwood DIYed in her Brooklyn apartment (shown below). Or take a note from Katarina Matsson, who did DIY confetti flooring in the dining room of her family's beautiful home, as shown above (you can watch her highlight to learn more about the process!).
3. …Or a Painted Ceiling
Make a bold statement in a room and draw the eye upward by painting your ceiling (or, heck, wallpaper it if you'd like…the world is your oyster). Natalie Papier of Home Ec. has done this beautifully in several of her spaces. I love how the bright green color in her living room is so stunningly unexpected and yet works so impeccably well.
4. Use Curtains Unconventionally
Never underestimate the power that curtains can have in a room, whether used as a window treatment or something else entirely! I love the examples I've seen of curtains used in lieu of (or as an additional statement to) a headboard in a bedroom. And I love how Beata Heuman used delightfully patterned curtains to cover up the space underneath her sink—it's practical and beautiful all at once.
5. Create a Monochromatic Room
Go the route of the previous owners of our home and paint your room monochrome (I'm looking at you, peach room)—paint the baseboards, walls, trim, crown molding, everything, all the same color. It's one way to make a big statement without a ton of additional effort. I've seen this done in so many different examples, and the all-pink powder room shown here is one of my recent favorites.
6. Go Maximalist with Your Design
While minimalism at home continues to be as popular as ever, there are benefits to going the maximalist route, too—you get to make a big, unexpected statement, for one, and you can showcase all of the decor pieces you love most, little editing necessary. Overflow your shelves with your favorite objects and books; layer two rugs on top of each other; style your coffee table to your heart's content. Sometimes more is simply more, and there's no shame in designing a vibrant, bold space that speaks for itself—as long as you love the way it looks, that's really all that matters.
7. Create Your Own Low-Profile Shelf
One of my favorite ways to bring interest to a room is by varying the heights of decor to draw the eye both upward in some areas and downward in others. The photo above is from the last apartment I lived in before Joe and I purchased our first house. I created a low-profile shelf with a piece of scrap wood propped up with stacks of magazines. I recently saw something similar done by Jazmine Rogers (as shown below)—she used a leftover scrap piece of corkboard from a desk project and placed it atop two cinderblocks. And look at the result! It's unexpected, beautiful, and anything but ordinary.
Implementing slightly out of the box ideas in your room doesn't have to be challenging or expensive. It's about using creativity to create the space you want, regardless of the input of trends or other people. Have fun with it (design is meant to be fun after all!), and please share any of your own ideas below in the comments. I'd be eager to hear them.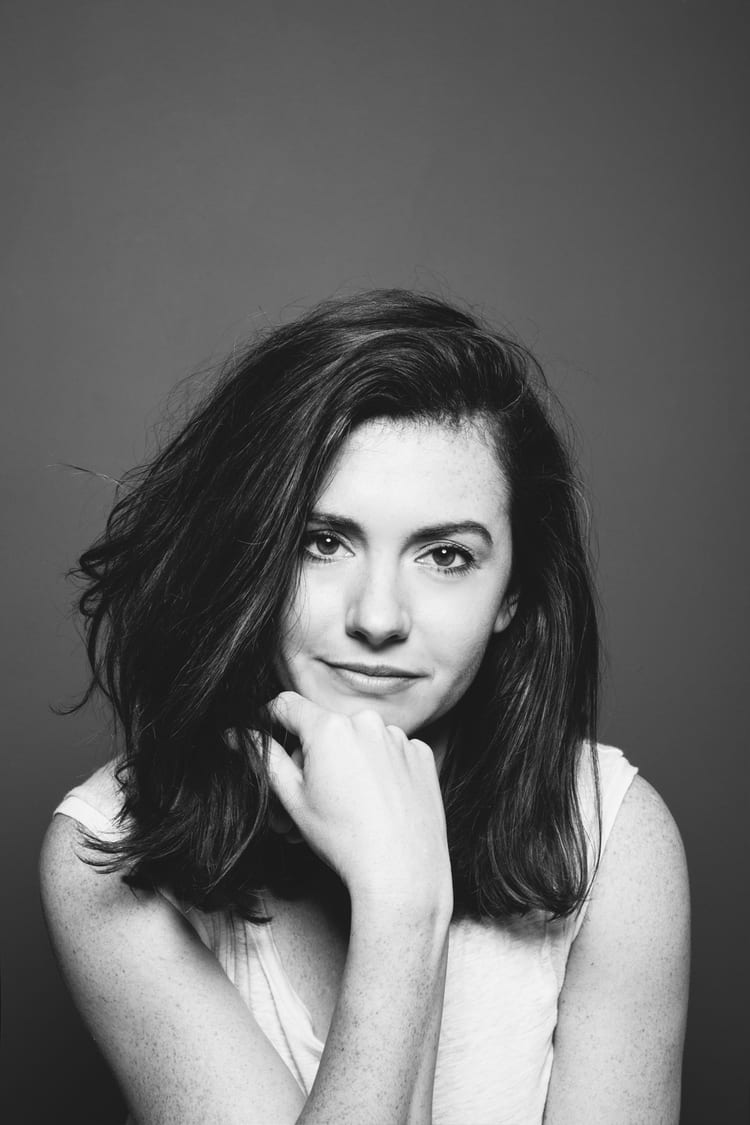 Kate is currently learning to play the Ukulele, much to the despair of her husband, kids, and dogs. Follow her on Instagram at @witanddelight_.